AlphaID™ screening kits are FREE and make testing for
alpha-1

easy

Rule out alpha-1 in all your patients with COPD. AlphaID is a free and fast cheek swab for screening all your patients for alpha-1, the #1 risk factor for genetic COPD.
Turnaround

time is within 5 business days. AlphaID is provided compliments of Grifols and may not be billed to patients or their insurers
AlphaID is processed at an independent, certified laboratory that values and adheres to strict privacy and confidentiality standards
Ordering clinicians can access confidential results via fax or MyAlphaID portal when email is provided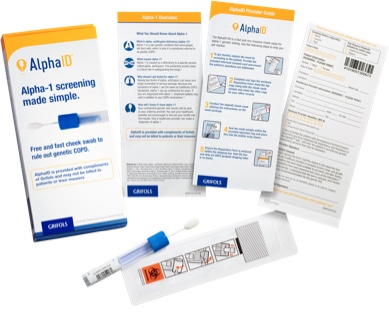 IMPORTANT SAFETY INFORMATION
PROLASTIN®-C LIQUID is an alpha1-proteinase inhibitor (human) (alpha1-PI) indicated for chronic augmentation and maintenance therapy in adults with clinical evidence of emphysema due to severe hereditary deficiency of alpha1-PI (alpha1-antitrypsin deficiency).
Limitations of Use
The effect of augmentation therapy with any alpha1-PI, including

PROLASTIN-C

LIQUID, on pulmonary exacerbations and on the progression of emphysema in alpha1-PI deficiency has not been conclusively demonstrated in randomized, controlled clinical trials
Clinical data demonstrating the

long-term

effects of chronic augmentation or maintenance therapy with

PROLASTIN-C

LIQUID are not available
PROLASTIN-C LIQUID is not indicated as therapy for lung disease in patients in whom severe alpha1-PI deficiency has not been established
PROLASTIN-C LIQUID is contraindicated in immunoglobulin A (IgA)-deficient patients with antibodies against IgA or patients with a history of anaphylaxis or other severe systemic reaction to alpha1-PI products.
Hypersensitivity reactions, including anaphylaxis, may occur. Monitor vital signs and observe the patient carefully throughout the infusion. If hypersensitivity symptoms occur, promptly stop PROLASTIN-C LIQUID infusion and begin appropriate therapy.
Because PROLASTIN-C LIQUID is made from human plasma, it may carry a risk of transmitting infectious agents, eg, viruses, the variant Creutzfeldt-Jakob disease (vCJD) agent, and, theoretically, the Creutzfeldt-Jakob disease (CJD) agent. This also applies to unknown or emerging viruses and other pathogens.
The most common adverse reactions during PROLASTIN-C LIQUID clinical trials in >5% of subjects were diarrhea and fatigue, each of which occurred in 2 subjects (6%).
Please see full Prescribing Information for PROLASTIN-C LIQUID.
You are encouraged to report negative side effects of prescription drugs to the FDA. Visit www.fda.gov/medwatch or call 1-800-FDA-1088.